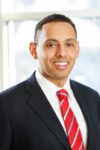 Addisu Mesfin, M.D.
Global Health Director
University of Rochester Medical Center
Dr. Mesfin is the Division Chief of Spine Surgery and a Professor of Orthopaedic Surgery, Neurosurgery, Biomedical Engineering and Public Health at the University of Rochester. He has also served as the Director of the Louis A. Goldstein Spine Surgery Fellowship. He completed his Orthopaedic Surgery Residency at the John Hopkins Hospital. He completed the prestigious Adult and Pediatric Spine Surgery Fellowship at the Washington University in St. Louis. He also completed traveling fellowships focusing on spine oncology at the Johns Hopkins Hospital, Kanazawa University and Keio University in Japan and at the Rizzoli Orthopaedic Institute in Italy.
Dr. Mesfin is active in research and has presented at more than 250 local, national and international meetings along with more than 160 peer reviewed publications. He is a member of the Cervical Spine Research Society, Scoliosis Research Society, North American Spine Society, Lumbar Spine Research Society. He is also member of orthopaedic organizations: American Orthopaedic Association, AAOS, and the scientific chair of the J. Robert Gladden Society. He has won several awards for his research and has received grant funding for his spine research. He has served in the United States Army Reserves and has deployed to Afghanistan as the Orthopaedic Surgeon of a Forward Surgical Team (FST). He is interested in Global Health and has taught and operated at a trauma center in Ethiopia.