Prerequisites: Introductory biology (BIO 110 or equivalent). 
Lecture: 4 credit hour course.  Weekly classes (2 times/wk).
1 Lab and 1 small group sessions per week
Office Hours: As needed by appointment only.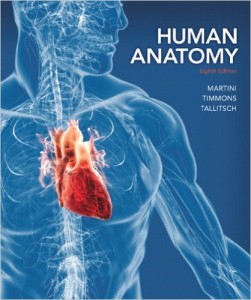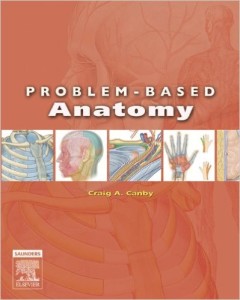 Textbooks:
1. Human Anatomy (8th Edition) by Frederic H. Martini, Michael J. Timmons, Robert B. Tallitsch,  ISBN-13: 978-0321883322ISBN-10: 0321883322
2. Problem-Based Anatomy by Craig A. Canby
Course Description, Format, and Objectives: This course analyzes the structural composition of the human body from cellular to organ levels.  The goal is to provide a foundation in human anatomy appropriate for students interested in the bioscience and health care professions (e.g. nursing, physical therapy, medicine, bioengineering).  Learning objectives will be achieved through a combination of lecture and hands-on (laboratory) approaches, reinforced by clinical examples and analysis of how biomedical devices interface with anatomical structures. 
In addition, students will participate in small group discussions of clinical case studies, make group presentations of topic appropriate biomedical devices, and prepare a term paper on the subject of their choice selected from a list of topics generated by the instructor (listed at the end of the syllabus).
When registering, students must register for BME459.   Registration requires participation in the lecture, lab, and small group discussion time periods, which are listed below.
Lecture: TBA
Lab: TBA
Small Group Case Study Discussions: TBA
Frequently asked questions about the course
BME 459
Do I also have to register for BME 258 or BIO 258?
NO.  Please only register for the lecture, lab, and small group case study discussions associated with BME 459.
Do I have to be an engineer in order to take this course?
Absolutely not! While this course discusses medical technologies and how they relate to the underlying anatomy, the material is appropriate for students of any discipline.
How does this class differ from BME 258?
A graduate student may take BME 258.  However, as a graduate student you will only receive 3 credits for taking it.  BME 459 differs from BME 258 in that it has additional practical material that relates medical technology to anatomical structure and function.
I am a BME MS student in the CMTI program. Is this course valuable for me?
Biomedical engineers often develop tools that interact with human anatomical structures.  They also develop tools that image anatomical structures.  Having a solid foundational knowledge of anatomy is of considerable importance to individuals looking to enter the medical device industry.
I am a graduate student in a program located on the medical school campus. Can I take this course?
Yes.   Any graduate student can take this course as long as you have had at least an introductory Biology course.
I am an undergraduate student. Can I take this course?
Undergraduates can take the course but only with instructor approval.
I am not a student. Could you give a special seminar at my company?
Yes! Please contact the instructor about special on-site seminars at your company for your employees.
What real world practical skill will I acquire in this course?
You will develop the ability to evaluate and analyze medical devices and health problems in the context of human anatomy.