Prerequisites: BME 890 Summer in Residence (or permission of instructor). Students should have conducted significant clinical observations prior to participation in the course.
Lecture: 4 credit hour course.  Weekly classes (1 time/wk).
Friday 11:50 – 3:15 PM (combination of lecture, student presentations and workshops)
Individual teams will meet with directors weekly to discuss progress.
Additional times may be scheduled to accommodate outside reviewers of key milestones.
Office Hours: As needed by appointment only.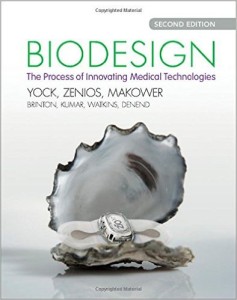 Textbooks/Readings: There is no required textbook for the course.  See the CMTI Resources Guide for many links for e-books, market research tools, patent databases, and other databases related to medical data healthcare research.  In particular, we will make considerable use of the following book, which students may choose to purchase.
1. Biodesign: The Process of Innovating Medical Technologies 2nd Edition by Paul G. Yock, Stefanos Zenios, Josh Makower, Todd J. Brinton, Uday N. Kumar, F. T. Jay Watkins, Lyn Denend, Thomas M. Krummel, and Christine Q. Kurihara. ISBN-13: 978-1107087354, ISBN-10: 110708735X
Course Description, Format, and Objectives: This course builds on the clinical observation period and guides CMTI students through the process of selection of an unmet clinical need for further design and development. Based on voice of the customer (VoC) feedback, stakeholder analysis, market analysis, and evaluation of the regulatory and technical landscape, teams will refine their observed needs and present them to a set of external reviewers. Brainstorming and prototyping techniques will be introduced and used to develop potential concepts for further design. Students will use Six Sigma tools to guide design decisions and clarify design requirements and product specifications. Communication skills will be developed through a mix of individual and team assignments, culminating in a formal concept design review at the end of the semester.
Topics: (presented throughout the year)
Stakeholder Analysis
Voice of the Customer Methods
Root Cause Analysis
Kano Analysis
Brainstorming
Value Proposition Canvas
Market Analysis
Needs Filtering
Competitive Benchmarking
Quality Function Deployment and House of Quality
Design for Six Sigma Methods
Generating Product Requirements
Project Management
Design Controls and Design History Files
Testing Strategies
Manufacturing Strategies
Key Milestones: 
October: Needs Review
December: Concept Review
February: Detailed Design Review
March: Prototype review for VOC
April: Review of Manufacturing / Regulatory Strategies
Late April: Design Day – Public Prototype presentation
Late May: Exit Exams (Oral / Written summary of Technical and Business Aspects)
Frequently asked questions about the course
BME 535
Can I take this course if I am not officially enrolled in the CMTI MS program?
Please contact one of the instructors.  Occasionally, students that are not officially enrolled in the CMTI MS program have participated in this course.
Is this one of my primary courses for the MS degree?
Yes, you have to take 30 credit hours during the academic year.  The 4 credit Medical Device Design course offered in the Fall semester is required for the CMTI MS graduate program in Biomedical Engineering.