The University of Rochester Center for Medical Technology and Innovation (CMTI) is a unique graduate program focused on developing the next generation of leaders in medical device design and business. If you are an engineer and your passion is to help people, our 1yr graduate M.S. degree in Biomedical Engineering offered through the CMTI will put your career on track within this highly rewarding field. Learn how to apply engineering based principles to translate unmet clinical needs into a proven concept. Students within the CMTI MS program receive extensive training in the commercialization process of medical devices.  Become familiar with the complexities of the medical device industry including FDA regulations, intellectual property, and quality systems.  Contact us today for more information! 
The CMTI resides within the Department of Biomedical Engineering and is a joint collaboration between the Hajim School of Engineering & Applied Sciences and the School of Medicine & Dentistry. We are currently accepting applications for Fall 2023. 
Apply now before the February 28th application fee waiver deadline.
"CMTI program offered an unforgettable experience in the operating room. Learning from their experience, interacting with patients from diverse backgrounds and listening to the fruitful stories of each and every healthcare professionals, our team collaboratively identified a clinical need we can solve using our biomedical engineering background. I firmly believe the invaluable clinical experiences from CMTI propelled me to join the pharmaceutical industry to reach patients and be part of a journey to solving clinical needs."
The CMTI program was integral in providing a rich, unique curriculum that equipped me with both a deep and broad understanding of medical devices. The curriculum was comprehensive yet flexible and tailored, and I lean on it daily. The exposure to the operating room setting was invaluable in providing a perspective and appreciation of patient care difficult to attain otherwise. You can't help but be awed by the cutting-edge technology you see in action and the top clinical staff performing their craft. That said, sometimes the low-tech solutions are the ones that stand out in the OR! Every minute was packed with insights and lessons that I am grateful to have been privy to. .
A driving reason behind why I chose the CMTI program over others is that it allowed me to experience the OR space while witnessing some revolutionary devices in action like the Micra pacemaker and Da Vinci Robot. Unexpectedly, I found myself going into a career path where I am in the OR space as a clinical specialist.
The CMTI program provides a unique educational experience in both clinical observation and bioengineering design, which prepares students for careers in medical technology and innovation. Additionally, the program includes a clinical practicum, where students work on real-world projects and gain hands-on experience in the product development process. We offer a comprehensive curriculum that includes core courses in medical device design, FDA and IP considerations, and ethics and professional integrity in research, as well as elective courses that provide students with additional breadth and depth in subjects important for their individual areas.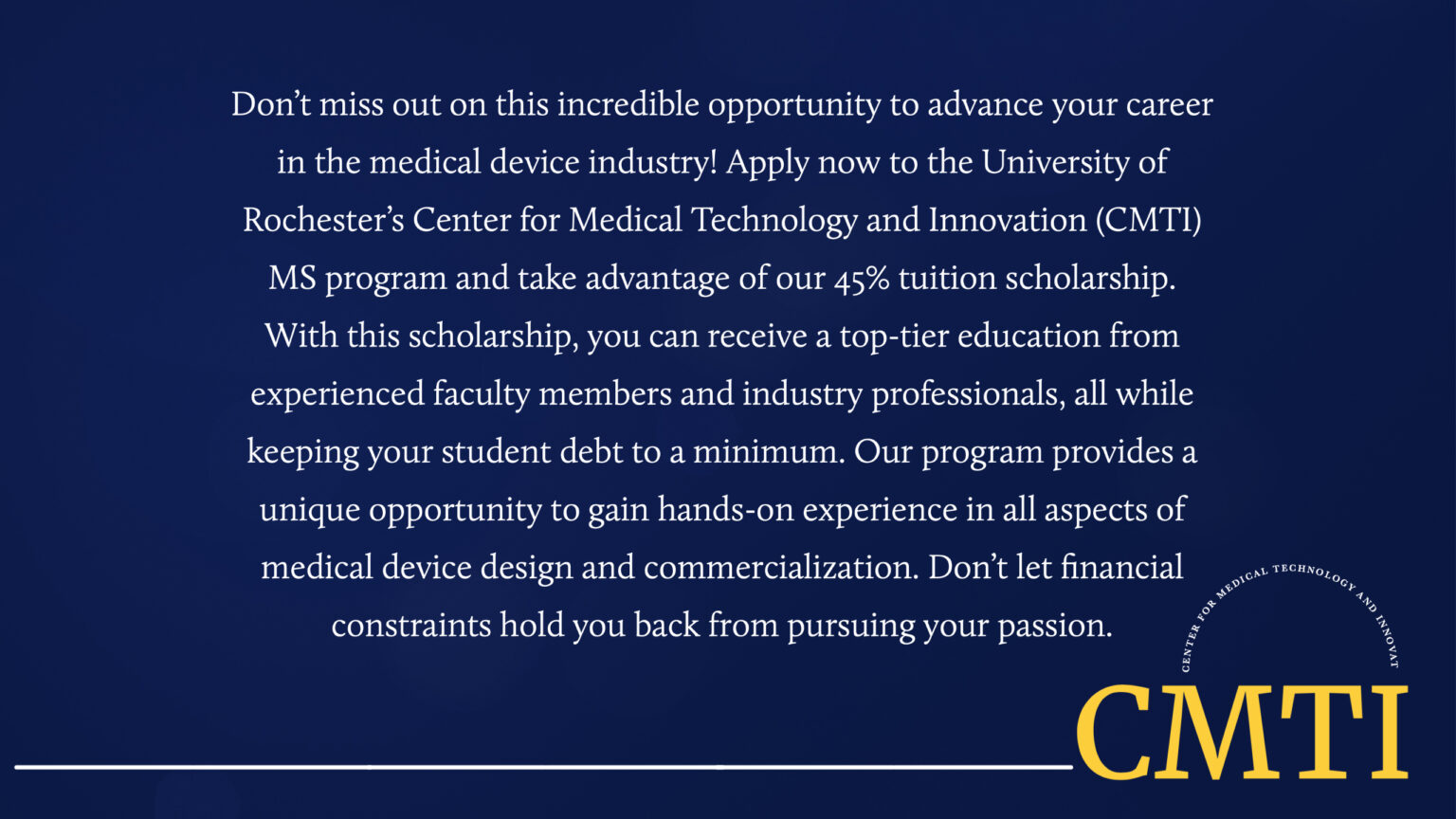 Apply today and take the first step towards a fulfilling career in the medical device industry!
The Center for Medical Technology and Innovation offers all full-time students a 45% tuition scholarship! Don't worry, you have not lost your spot as an incoming student for the 2023-2024 academic year, we accept applications on a rolling basis! This year our program will begin on July 10th, starting off with the clinical immersion in the University of Rochester Medical Center. There is still time to apply!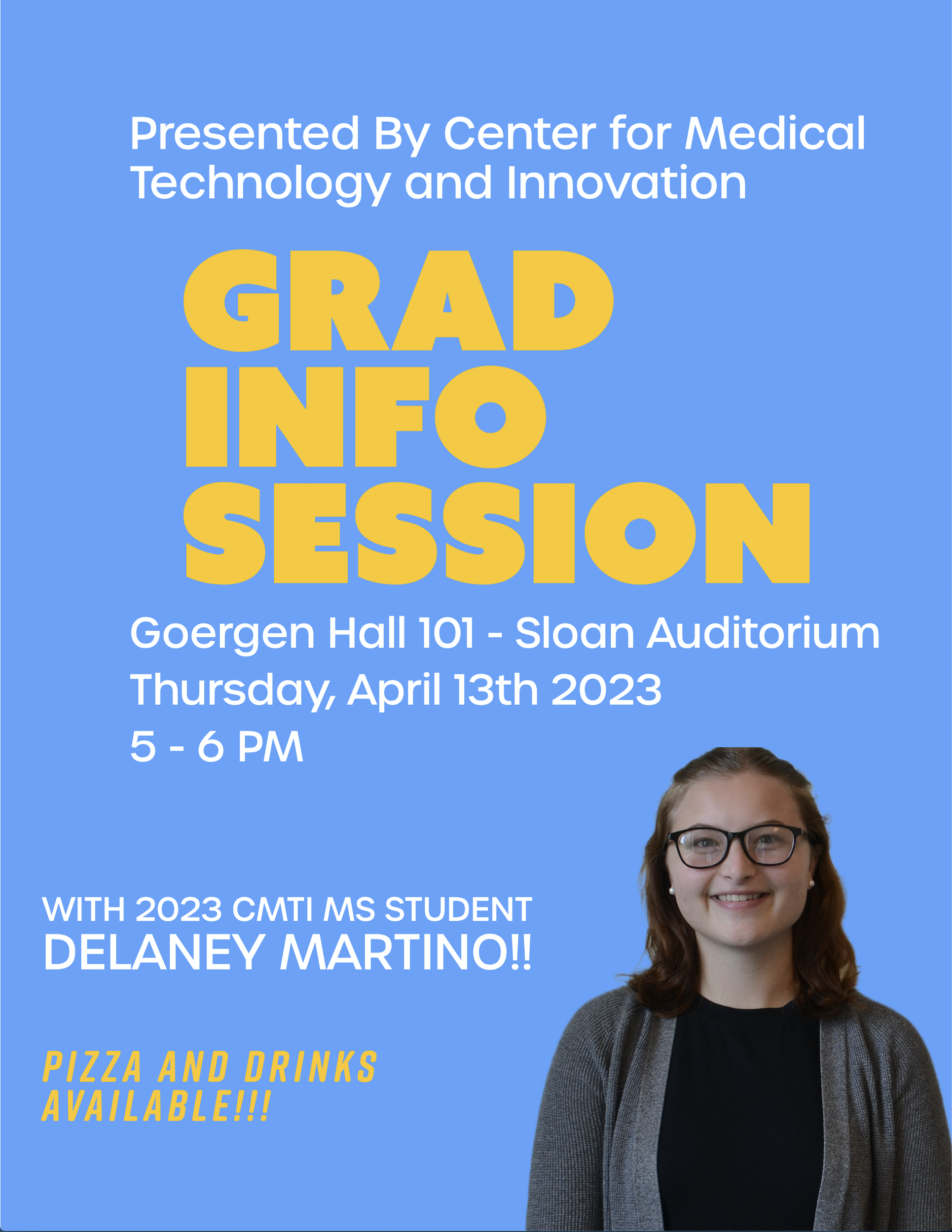 Upcoming CMTI Graduate Information Session
The Center for Medical Technology and Innovation (CMTI) at the University of Rochester is hosting a Graduate Information Session and Q&A on April 13th, 2023. This event is designed to provide prospective graduate students with an opportunity to learn more about the CMTI program and ask questions about the application process. The session will feature Q&A session with Delaney Martino and Pizza and Drinks! The event is open to all interested individuals. We look forward to seeing you there!
                                                           Date: Thursday April 13th
                                                           Time: 5 – 6 PM
                                                           Location: Sloan Auditorium, Goergen 101
                                                           questions? mahllet.beyene@rochester.edu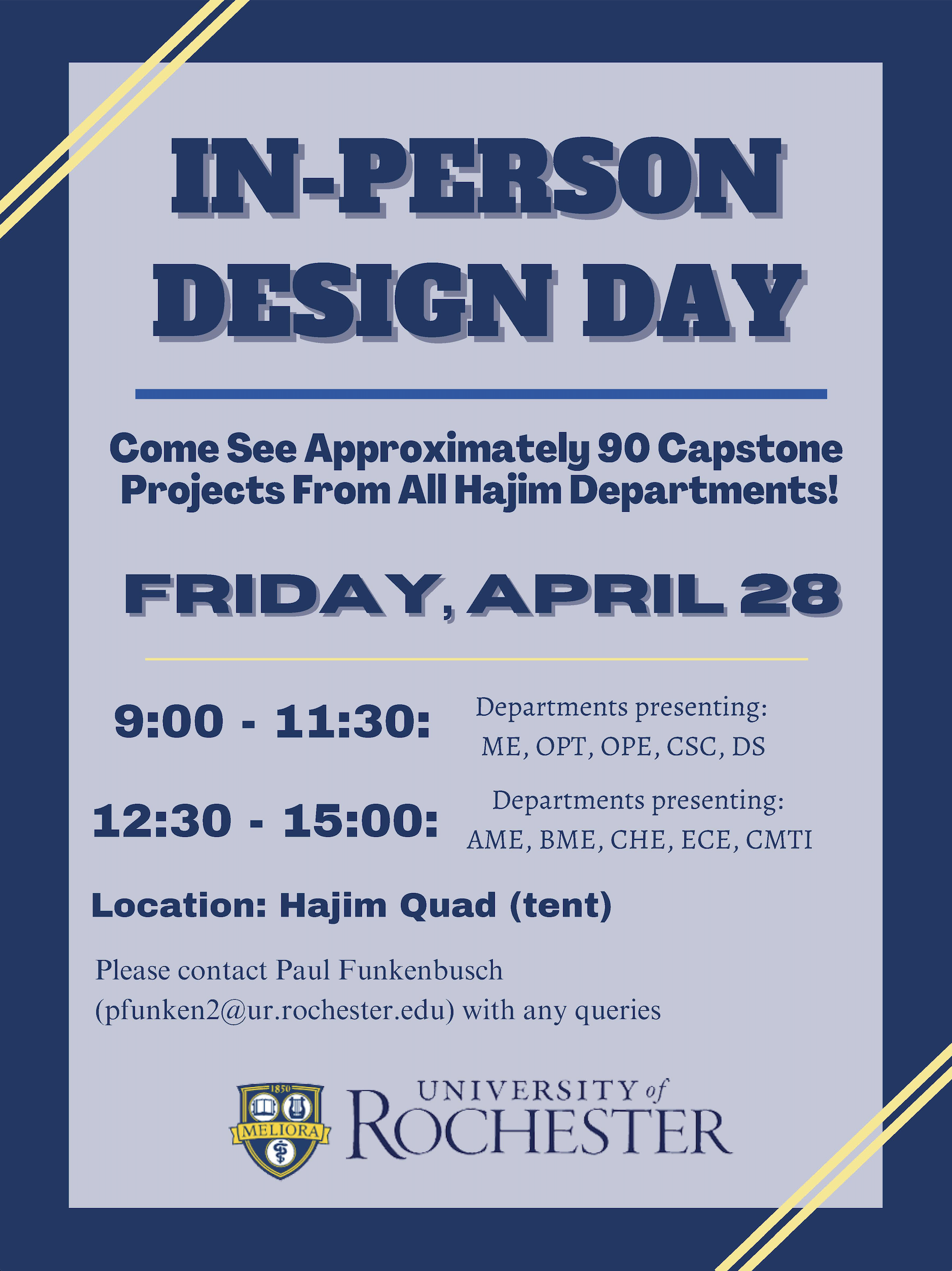 Hajim Design Day 2023
Mark your calendars and get excited for Hajim Design Day on Friday, April 28th! From 12:30 PM to 3:00 PM EST, you'll have the incredible opportunity to see the latest prototypes from the talented Senior undergraduate students in Biomedical Engineering, as well as the impressive creations from the Center for Medical Technology and Innovation MS students. Don't miss out on this chance to witness the cutting-edge designs and innovative ideas that are shaping the future of technology and engineering. Be sure to stop by and check it out! questions? mahllet.beyene@rochester.edu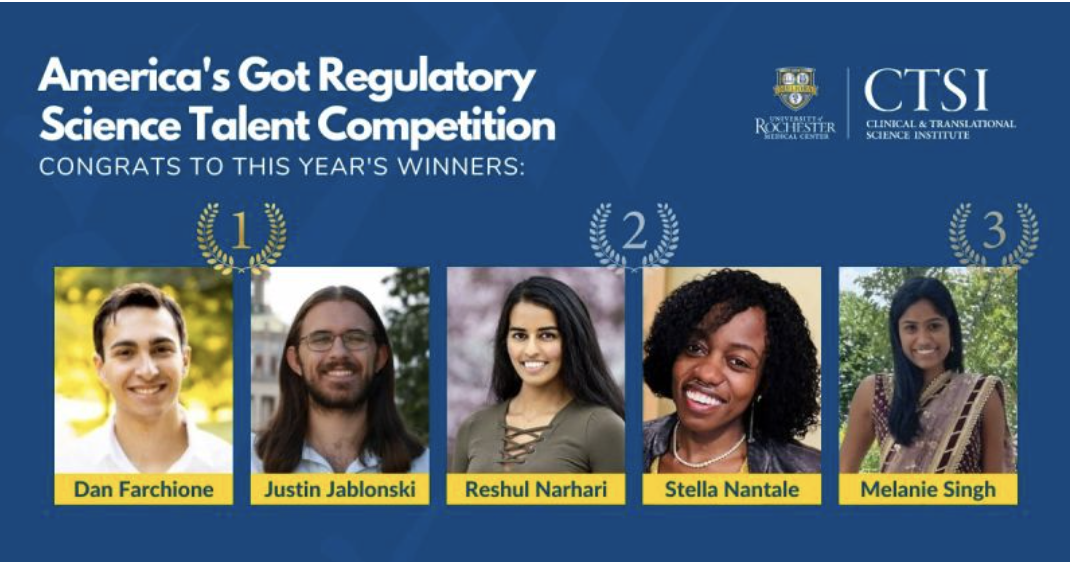 CMTI Students Take First and Second Place in CTSI Competition
We are thrilled to announce that four incredibly talented CMTI MS students have secured both first and second place in the prestigious Americas Got Regulatory Science Student Talent Competition! Their hard work, dedication, and innovative ideas have earned them this incredible honor and we couldn't be more proud of their achievements. This is a testament to the exceptional quality of education and training that the University of Rochester's Center for Medical Technology and Innovation provides to its students. Congratulations to our amazing students on this well-deserved recognition!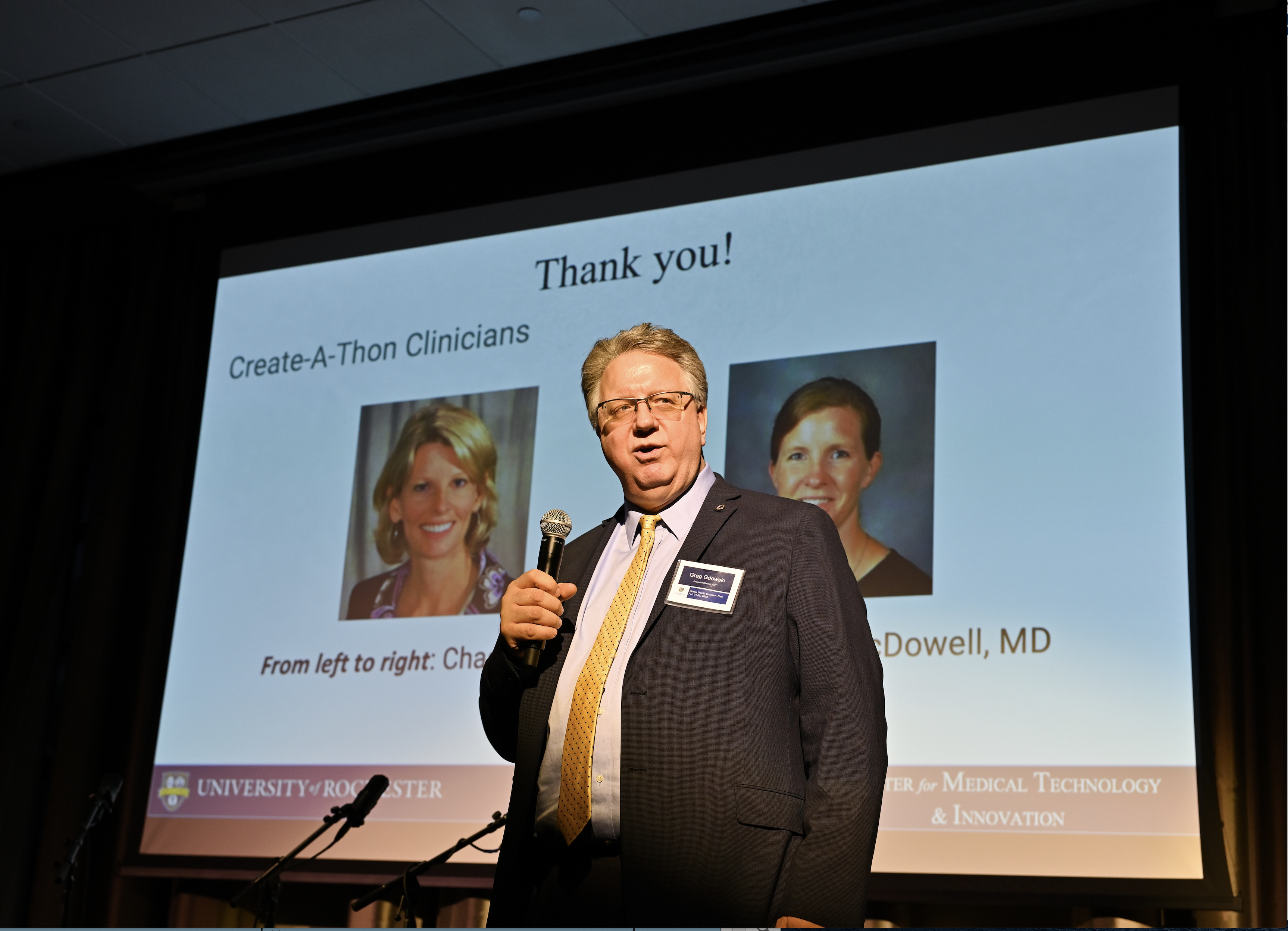 ApiJect Create-A-Thon Event
In the spirit of innovation and entrepreneurship, the Center for Medical Technology and Innovation hosted a Create-A-Thon event held on February 24th - 26th, 2023. With the the help of ApiJect and IEEE, we had just shy of 50 participants this year and were able to gift $1000's of cash prizes. 5 teams were honorable mentions, 3 teams were second place and 3 teams were first place. We would like to thank our sponsors ApiJect and IEEE for their support throughout the year.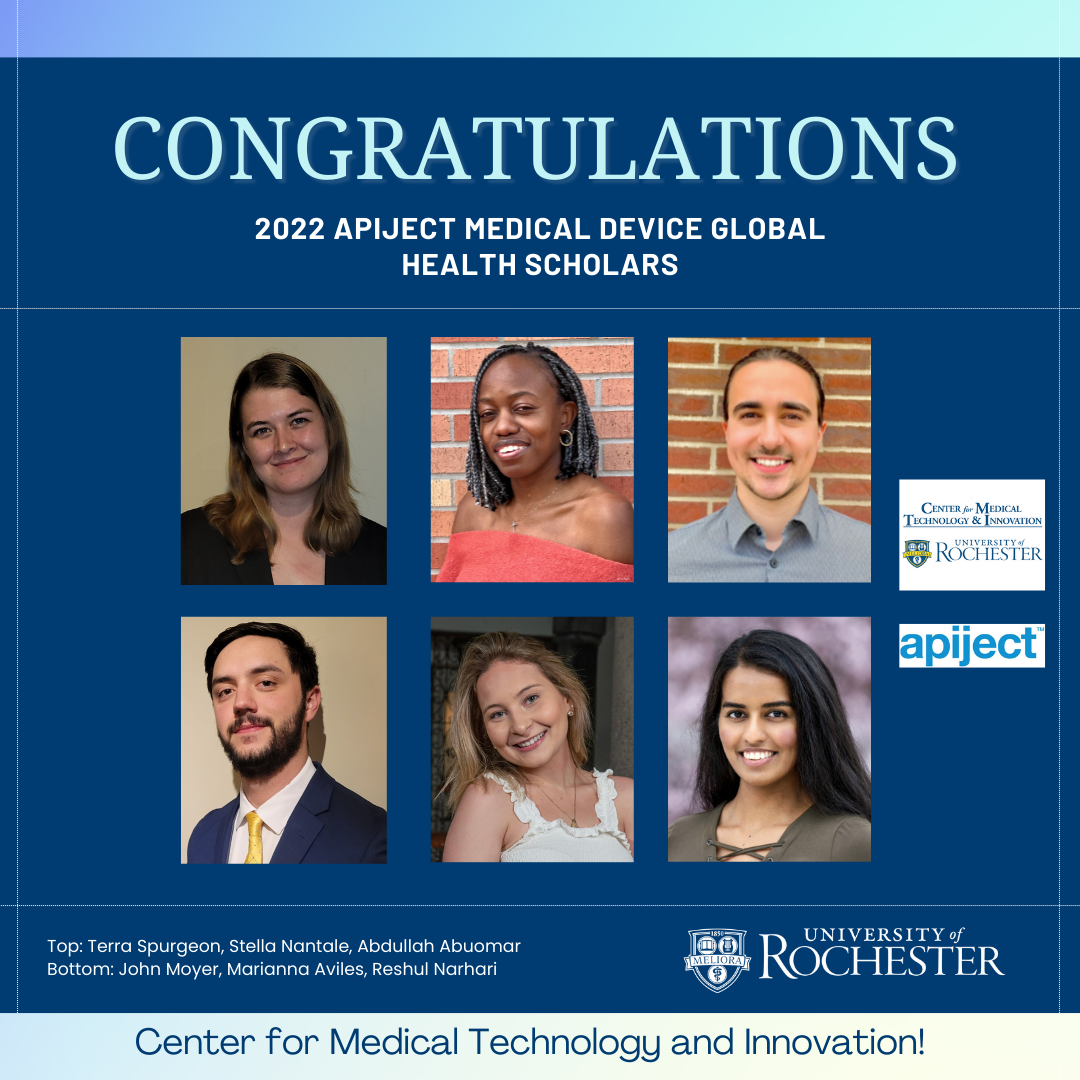 CMTI Announces the 2022-2023 Six ApiJect Scholarship Recipients
We are thrilled to announce an exciting new partnership between the Center for Medical Technology and Innovation and the innovative company, ApiJect! ApiJect has generously sponsored six CMTI MS tuition scholarships for students who are passionate about advancing medical technology innovation in global and low resource settings. This incredible partnership will empower and support the next generation of medical technology leaders, who will go on to make a real difference in the world. We couldn't be more grateful for ApiJect's support and look forward to the positive impact we will make together!
Stay up to date with Center for Medical Technology and Innovation Admissions Information, Events, Workshops, and more!