CMTI students meet with serial entrepreneur Bill Rader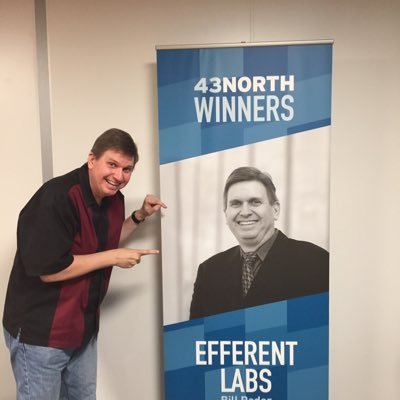 Bill Rader
President and CEO
Efferent Labs
2014 43North Winner
The CMTI students will have the opportunity to speak with Bill Rader in BME 432 – Pathways to Medical Innovation (FDA and IP considerations).  Bill is working with Spencer Rosero, MD (CMTI Clinical Director) to launch novel University of Rochester sensor technology.
Mr. Rader is a serial entrepreneur who sold his first company at age 18. To date he has launched five ventures and orchestrated multiple M&A's. Mr. Rader founded Efferent Labs, Inc. in 2011 with a passion derived from his personal experience. He created Efferent on the shoulders of a company he founded in 1998 and successfully exited in 2015, Raland Technologies (now Raland Compliance Partners). Mr. Rader grew Raland from a one-man startup to an Inc. 500|5000 company with a global footprint and 4 divisions. While leading Raland, he established strategic office locations and provided services to clients including Fortune 500 pharmaceutical, biotech and medical device companies throughout the United States, Europe and Asia. His efforts enabled Raland to become one of the most highly respected and sought after providers within the Life Science industry.
Mr. Rader started his career in the engineering sector of the U.S. Navy as a Nuclear Engineering Reactor Controls member of the Submarine Fleet. He holds a Bachelor of Science in Electrical Engineering, is a member of Harvard Business School, Business Innovations in Global Healthcare class of 2015, and a graduate of the University at Buffalo, School of Management. Mr. Rader is a NYBio Fellow, and a member of many industry organizations including ISPE, PDA, IEEE, Tech Council/MDBio, and ISA.
Mr Rader sits on the Board of Directors at MedTech with CMTI Executive Director, Greg Gdowski.
http://www.efferentlabs.com/about-us/
http://www.43north.org/winners/efferent-labs/
Catch Bill here at a Innovate WNY podcast!
Mr. Rader is also a regular contributor to Forbes magazine.  You can catch his blog here: https://www.forbes.com/sites/bill-rader/#362c26144154