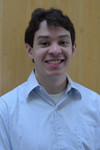 Martin Gitomer
Design Assurance Engineer at Smith & Nephew
Plans, realizes, and delivers in Systems & Component (HW & SW) level Verification implementation,
analysis and reporting.
Contributes to documentation generation for Design Verification and Validation (V&V) processes and tools.
Supports environmental testing, Standards testing and usability testing.
Performs and documents test cases to exercise the product to verify requirements and reveal potential defects.
Maintains real time log of executed tests, results and environment, reviews and reports results.
Designs, Develops, Debugs Verification Test Protocols and Test Cases.