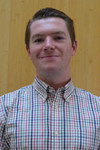 Tristan Richardson
Supervisor, Drug Product Engineering at Thermo Fisher Scientific
Since August 2017 I have led all validation activities at the AMRI Burlington site. This has allowed me to gain an understanding and experience in a wide range of validation including equipment and facility qualification, cleaning validation, process simulations, computer software validation, and sterilization qualification. Below is a brief description of responsibilities associated with my role.
Responsible for authoring and executing validation SOPs and protocols including IQ/OQ/PQ/RQ, temperature distribution studies, clean room airflow studies, steam sterilization characterization studies, SIP/CIP development.
Responsible for maintaining the validated status of pharmaceutical equipment, processes, and facilities including autoclave, depyrogenation oven, lyophilizer, ball mill, controlled gas facilities, VHP isolator, vial washer, stability incubators and the clean room GMP environment.
Reviewed and revised process simulation program to comply with regulations and industry guidelines.
Led validation development for installation and qualification of a new Building Management System that included over 200 new instruments throughout the GMP facility.
Review current and new development and manufacturing processes to ensure and maintain compliance with various regulatory bodies (FDA, EU).
Participated in client, potential client, and FDA audits.