Improving Patient Outcomes Across the Entire United States:
CMS Directions in Quality Measurement and Improvement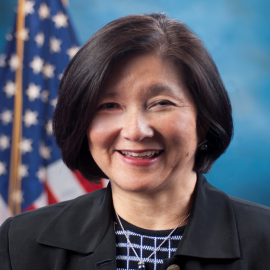 Shari M. Ling, M.D.
Deputy Chief Medical Officer, Centers for Medicare & Medicaid Services
Thursday, September 21, 2017, 12 – 1 p.m.
Class of '62 Auditorium, 1-9425
Lunch Will Be Served
Short Bio:
Dr. Shari M. Ling is currently the Centers for Medicare and Medicaid Services (CMS), Deputy Chief Medical Officer serving in the Center for Clinical Standards and Quality (CCSQ), responsible for assisting the CMS Chief Medical Officer in the Agency's pursuit of higher quality health care, healthier populations, and lower cost through quality improvement. Dr. Ling's long-standing focus is on the achievement of meaningful health outcomes through delivery of high quality beneficiary-centered care across all care settings, with a special interest in the care of persons with multiple chronic conditions and functional limitations, and reducing health disparities.
Dr. Ling has served as the lead coordinator and facilitator of the CCSQ Measures Forum. Dr. Ling represents CMS on the Health and Human Services (HHS) Multiple Chronic Conditions workgroup, and the National Quality Forum Measures Application Partnership Post-acute Care/Long-term Care workgroup, and chairs the Measures and Data sources sub-workgroup for the HHS Action Plan for Healthcare Associated Infection (HAI) Prevention in Long-term Care facilities. Dr. Ling also serves as the clinical sub-group lead for the HHS National Alzheimer's Project Act.
Dr. Ling is a Geriatrician and Rheumatologist who received her medical training at Georgetown University School of Medicine where she graduated as a member of the Alpha Omega Alpha Honor Society. Dr. Ling received her clinical training in Internal Medicine and Rheumatology at Georgetown University Medical Center, and completing Geriatric Medicine studies at Johns Hopkins University., remaining on faculty at Johns Hopkins for 5 years, after which she joined the Intramural Research Program of the National Institutes of Health at the National Institute on Aging as a Staff Clinician for 8 years studying human aging and age-associated chronic diseases with attention to musculoskeletal conditions and mobility function.
Dr. Ling continues to serve as a part-time faculty member in the Division of Geriatric Medicine and Gerontology at Johns Hopkins University School of Medicine, and in the Division of Rheumatology, Allergy and Clinical Immunology at the University of Mary-land. Dr. Ling volunteers at the Veterans Administration Medical Center in Baltimore. She is a Gerontologist who received her training in Direct Service from the Ethel Percy Andrus Gerontology Center, at the University of Southern California, and served as the co-director of the Andrus Older Adult Counseling Center.
Dr. Ling resides in Maryland, is married and has two children.
https://www.cms.gov/About-CMS/Leadership/ocsq/Shari-M-Ling-MD.html